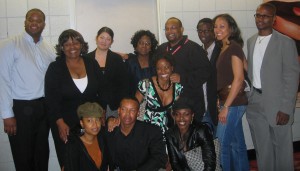 The 23rd Psalm Packs The House At PAFF 2007
Los Angeles (02/20/07) – The 23rd Psalm played to a packed house at last Friday's Los Angeles Premiere screening during the Pan African Film Festival at Magic Johnson's Theater.
Members of the audience commented that the characters seemed "very real" and found the movie "easy to relate to…"
After Christopher C. Odom announced that The 23rd Psalm was now officially in the market for a distribution deal, there were dozens of camera flashes, swarming reporters, and buzz about distribution deals, which blocked the entire hallway outside the screening.
The 23rd Psalm will screen next at in Memphis, TN at the National Civil Rights Museum, April 27, 2007.
For more information about The 23rd Psalm and to stay up to date with the latest news about the film, please visit the film's official website at http://www.psalm23movie.com .