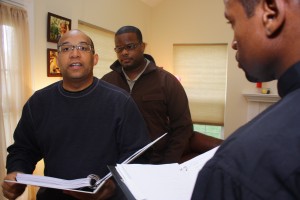 Please share your testimonial of what it is like working with Christopher C. Odom, professionally.
Tatyana Ali said that she liked the writing of Christopher C. Odom and his partner Cornelius Booker III, describing the screenplay of "23rd Psalm: Redemption" full of "depth" and "theatricality".
Clifton Powell said that it was "exciting" that Christopher C. Odom had created his own production company, Odom-Booker Entertainment, along with Cornelius Booker, III, and did not wait for Hollywood to bring them an opportunity. He called Christopher and Cornelius "the new frontier".
Leslie Mills said that she was "honored" and "grateful" to work with producer, director, writer Christopher C. Odom on the set of "23rd Psalm: Redemption", calling the experience "phenomenal".
"I am writing to impress upon you the quality of educator you have applying to work for you.  I have the honor and privilege of knowing Christopher C. Odom since our college days at University of California, Los Angeles in the 1990s, and we work together today as a full-time educators in the MFA Creative Writing program at Full Sail University.  Full Sail University is a strictly entertainment career based college, with emphasis on film, television, and recording arts.  I recommend Mr. Odom from the perspective of personally having been a working Hollywood professional for close to 15 years, a current, active member of the Writers' Guild of America, West, and as a full-time teacher/lecturer on the entertainment industry." — Michael Tabb (http://m.fullsail.edu/degrees/online/creative-writing-mfa/faculty/mike-tabb)

"I would like to highly recommend Christopher C. Odom as a candidate for an opportunity with your company or organization. He is a talented writer, filmmaker and editor. He has always been a pleasure to work with. He and I first met in 2004 when we joined forces with a group of likeminded individuals to create and produce an original TV pilot titled "On Location". In the time we've worked together he has always demonstrated his ability to be creative, punctual and extremely passionate about creating quality projects his friends and family could be proud of. My professional development and production background encompasses working with David Letterman, Dick Wolf, Spike Lee, Dolly Hall, Jamie Babbit, Robert A. Egan and their productions.  My feature producing credits include the International and Domestic Ariztical Entertainment Group release, "Maggie & Annie", "23rd Psalm" & "23 Psalm: Redemption". — Cornelius Booker III (http://www.imdb.com/name/nm1729481/?ref_=fn_al_nm_1)
"Chris is a creative entrepreneur who takes the bull by the horns and delivers what he promises. A rare quality in today's lazy "slap-it-together" business climate. When faced with a tough obstacle or challenge that others say can't be done, he boldly trudges forward and somehow conquers it. His energy and can-do attitude is inspiring. He's certainly lit a fire under my butt on many occasions to stop making excuses and "just do it". If you need someone to produce, direct, or edit video of any kind, this is the man you need to talk to." — Martin Shapiro (http://www.webseriescreator.com)
"As an actor who likes to and is willing try anything, working with Chris as a director is a pleasure!  When you get a director who is open to what you can create the possibilities are endless." — Markhum Stansbury, Jr.
"What a guy! Having worked with Odom on several film projects I can tell you that he is absolutely terrific to work with. An easy going problem solver who knows how to get the shot and move on, Chris has a thorough understanding of what it takes to stay on track and finish the picture." — Robert Klinger (http://robertklinger.com/)
"Who is Christopher Odom?  He is a multi-layered, 3-Dimensional human being who is constantly looking to challenge himself.  Some words I might use to describe him are the following: learned, erudite, complex, introspective, spiritual, extrovert, very positive, brilliant, honest, exceptional sense of ethics, good integrity, will be truthful in his opinion to a friend even if it hurts, and always looking to do the right thing.
Chris and I first met nearly some 20 years ago in Atlanta, Georgia on the campus of Georgia State University in undergraduate school.  We were both film students at the time.  We both relocated to Los Angeles, California where we continued our friendship and love for the cinematic arts.  His drive, tenacity, vision, and most of all, friendship, have stood the test of time.  I had the fortune of working under his direction on two films that he had conceived.
If you know anything about the culture of filmmaking, then you must absolutely know that working on a movie set is arduous, challenging work.  A tight budget alone is more than enough to deal with.  Chris operated his production, not on a shoe string budget, but on a floss string budget. 
A director can also be beset with literally hundreds of decision making responsibilities per day.  Well, day in and day out I saw Chris stay calm, cool, and collected under pressure.  This captain navigated his ship in the tumultuous waters and took good care of his crew to boot.  I must also admit that under these conditions, he was still able to produce mighty fine material on top of it all…" — Michael Marks (http://marksproductions.webs.com/)