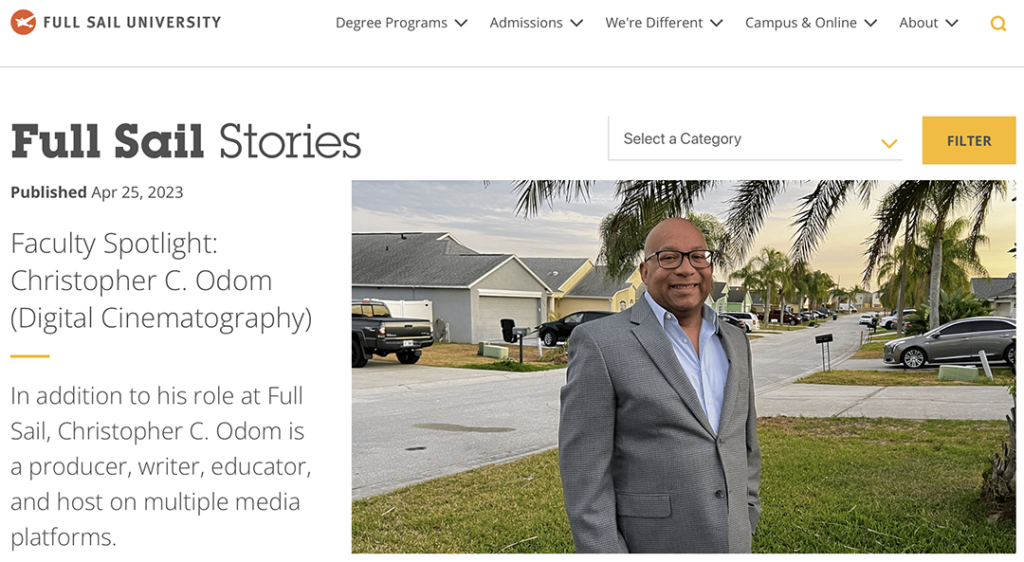 With over 30 years of experience in the entertainment industry and more than 11 years at Full Sail University, Digital Cinematography Course Director Christopher C. Odom has had a wide range of experience in the business, and he's still finding new ways to prosper creatively and professionally in an ever-evolving digital world.
"As an undergraduate, I originally went to [historically black college] Morehouse College in Atlanta, Georgia," Christopher says. He later completed his bachelor's degree at Georgia State University and holds a Master of Fine Arts in Film and Television from the University of California. Currently, Christopher is working towards receiving his doctorate this year in Texts and Technology, Digital Media from the University of Central Florida.
"[Texts, and Technology, Digital Media is] a school of thought very similar to digital humanities, which looks at the humanities either with digital tools or the digital aspects of emerging technologies and humanities with the goal of solving problems in the areas of social justice and social change," he explains. "I was interested in social media and I kind of tacked that on to the visual imagery of social movements.