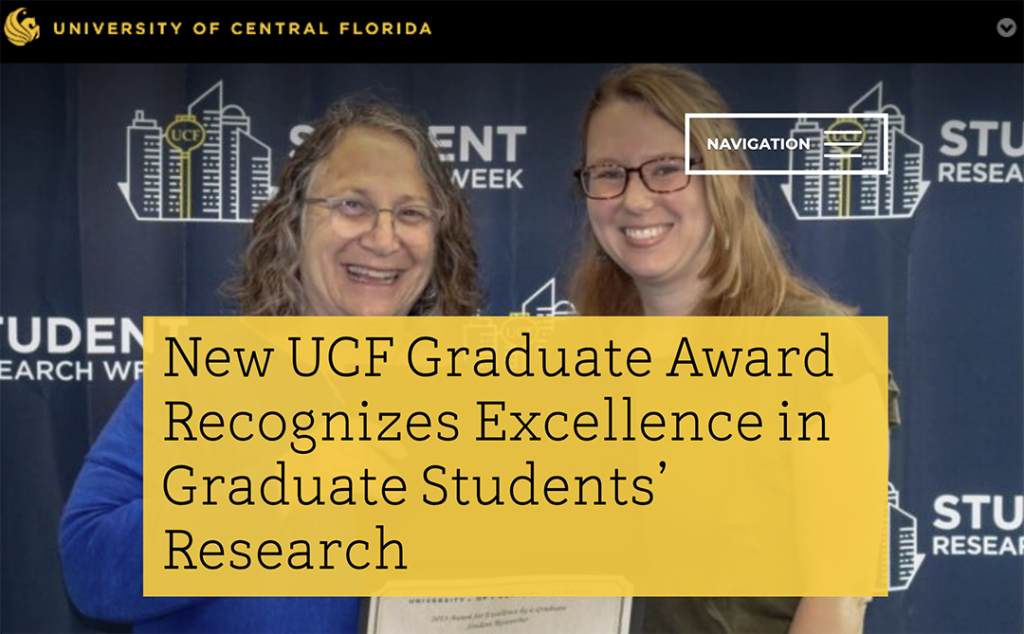 To recognize graduate students for their strides in research, the College of Graduate Studies Graduate Student Advisory Council (GSAC) has put together a new award. The Award for Excellence by a Graduate Student Researcher celebrates UCF's outstanding graduate students for their impressive research and creative scholarship within their fields. The self-nominated award encourages students to share their research with the UCF community and allows the GSAC to acknowledge and reward exceptional students.
Fellow council member Christopher Odom, a Ph.D. candidate in the texts and technology program, says the GSAC is "laser-focused" on supporting the needs of graduate students.
"Both the Graduate Award of Excellence by a Student Researcher and the Graduate Student Advisory Council are important because, at a university with a student population comprised mostly of undergraduate students, the council and the award offer a way to meaningfully impact, recognize, and support the work and the needs of graduate students," he says.
Odom also describes the award as beneficial in helping boost students' resumes and leaving behind a legacy to build upon for future Graduate Student Advisory Councils. He notes that the council is only just getting started and aims to create more opportunities such as this.
"You will see more support from the Graduate Student Advisory Council for graduate students, graduate teaching assistants, and graduate assistants in the future," he says.